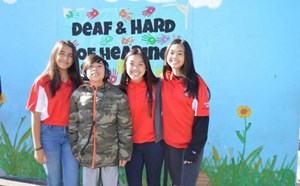 Bolsa Grande's ASB organized an interactive assembly at Enders Elementary School to teach students about a variety of disabilities. Students completed obstacle courses wearing blindfolds, played basketball on crutches, and buttoned shirts without the…
Principal's Message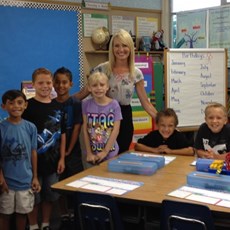 Dear Parents,
On behalf of the staff at Enders Elementary School, I am happy to welcome you to the 2019-20 school year! We are looking forward to a productive partnership with you to ensure our children can achieve their highest potential. We recognize that in order to be successful in school, our children need support from both the home and school. We know a strong partnership with you will make a great difference in your child's education. As partners, we share the responsibility for our children's success and want you to know that we will do our very best to carry out our responsibilities. We ask that you guide and support your child's learning by ensuring that he/she:
Attends school daily and arrives on time, ready for the day's learning experience
Completes all homework assignments given by teachers
Reads daily to develop a love for reading and to improve literacy skills
Shares school experiences with you so that you are aware of his/her school life
Informs you if he/she needs additional support in any area or subject
Knows that you expect him/her to succeed in school and go on to college 
Our school will be participating in an important district initiative this year called Positive Behavioral Interventions and Support, (PBIS). It is a systems approach to enhancing the capacity of schools to educate all children by developing research-based, school-wide, and classroom behavior support systems.
Enders version of PBIS includes focusing on positive reinforcement through the PRIDE acronym:
P=Positivity
R=Respectful/Responsible
I=Integrity
D=Determination
E=Excellence
Students demonstrating PRIDE on campus, in their classrooms, and out on the playground may receive a PRIDE slip. The PRIDE slip is a duplicate copy; one copy remains at school and is submitted in our monthly raffle during our Student of the Month assemblies and the other copy goes home in order to allow our parents to see the good deeds being done at school. 
I am also attaching a copy of our Enders Parent/Student Handbook and School Compact so that you and your child can review them together. If you have any questions about the rules and expectations, please feel free to contact me or to discuss them with your child's teacher. It is very important that you and your child are fully informed regarding standards related to appropriate behavior for a safe and productive school year.
The wonderful Enders staff and I feel privileged to be a part of this school family. We thank you for your support and look forward to working with you during the upcoming school year.
Sincerely,
Michelle Askew
Principal, Enders Elementary School
Our School
Enders Elementary School prides itself on being an integral part of the West Grove Community. A unique aspect of our school is that we have students that are third and even fourth generation Enders Scholars.
In addition to hosting Little League and softball on our campus, we have one of the largest teaching gardens in the area. The annual Enders Carnival, which takes place in the spring, is one of the most popular community events of the year.    
School pride is very important to us at Enders. Our campus beautification projects seek to make a warm and inviting environment for our students and families. This is reflected in the murals throughout the school, our campus garden, tile art, and our newest project, our rock garden.
Enders provides multiple opportunities to explore and develop new interests for our students. During the school day, our students participate in our running and exercise program The Mileage Club. The visual arts are supported and encouraged through the Arts Masters Program. We have an active student leadership team that promotes spirit days and our character traits, and plans events for our school. We also offer afterschool activities such as Chess Masters, Science Lab, and Robotics.  
Enders Elementary School encourages our parents to get involved in the classroom and at our school. We have a variety of family nights offered throughout the school year that focus on technology, mathematics, reading, and STEM activities. Parents are encouraged to volunteer in classrooms, attend special PTA sponsored events including the Magic Show, Jog A Thon, Talent Show, family dances such as our Sweetheart Dance, and the Carnival. Enders has family planting and harvesting days in our garden. We also host Pastries with the Principal where parents can connect with others in the community and hear about important news and updates from the principal. Behind many of these fantastic events is our Enders PTA! Our PTA meets on the second Thursday of each month and is just another way to get involved and help support our school.
Thanks,
Michelle