These first grade students from Enders Elementary School put their engineering skills to work in this fun STEAM bridge-building project. Students researched how to build the strongest bridge based on sustainability and weight, constructed their bridg…
Principal's Message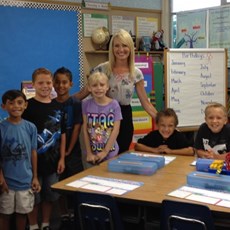 Dear Enders' Families, Students, and Community Members,
Welcome to the 2018-2019 school year!  It is a pleasure to serve as the Principal of Enders Elementary School – a school that has earned a well-deserved reputation for providing effective and collaborative instruction in a positive learning environment.  Enders' caring, committed, expert staff is dedicated to inspiring each student to reach their full potential as life-long learners and citizens.  We hold high expectations for knowledge acquisition and behavior to ensure our students' successes.  Enders' teachers deliver high-quality instruction and incorporate effective instructional strategies to meet the individual needs of our students.

We realize the importance of developing in each child not only academic growth but also a value for self-respect and self-worth.  Here at Enders, we provide a variety of opportunities for our students to develop meaningful and responsible relationships.  We also offer additional support resources to foster progress for all students.

A close partnership between school and home is essential for a strong academic career for our students.  Enders School encourages parent and community involvement through our PTA, participation at school activities, events, and fundraising, and taking an active interest in your child's learning.

I am proud to be a member of the Enders Elementary School community.  I look forward to help educating our children to the best of our ability and sustaining school environment that nurtures learning.  Please feel free to contact me with any questions or concerns that may arise throughout the school year.  We hope that each and every child has a rewarding and positive experience at Enders Elementary School!

Sincerely,

Michelle Askew
Principal
Our School
Enders Elementary School prides itself on being an integral part of the West Grove Community. A unique aspect of our school is that we have students that are third and even fourth generation Enders Scholars.
In addition to hosting Little League and softball on our campus, we have one of the largest teaching gardens in the area. The annual Enders Carnival, which takes place in the spring, is one of the most popular community events of the year.    
School pride is very important to us at Enders. Our campus beautification projects seek to make a warm and inviting environment for our students and families. This is reflected in the murals throughout the school, our campus garden, tile art, and our newest project, our rock garden.
Enders provides multiple opportunities to explore and develop new interests for our students. During the school day, our students participate in our running and exercise program The Mileage Club. The visual arts are supported and encouraged through the Arts Masters Program. We have an active student leadership team that promotes spirit days and our character traits, and plans events for our school. We also offer afterschool activities such as Chess Masters, Science Lab, and Robotics.  
Enders Elementary School encourages our parents to get involved in the classroom and at our school. We have a variety of family nights offered throughout the school year that focus on technology, mathematics, reading, and STEM activities. Parents are encouraged to volunteer in classrooms, attend special PTA sponsored events including the Magic Show, Jog A Thon, Talent Show, family dances such as our Sweetheart Dance, and the Carnival. Enders has family planting and harvesting days in our garden. We also host Pastries with the Principal where parents can connect with others in the community and hear about important news and updates from the principal. Behind many of these fantastic events is our Enders PTA! Our PTA meets on the second Thursday of each month and is just another way to get involved and help support our school.
Thanks,
Michelle